DEAKIN UNIVERSITY BURWOOD LAUNCHES NEW MULTI MILLION DOLLAR HEALTH AND WELLNESS CENTRE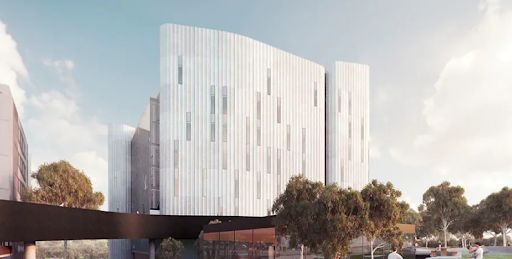 Deakin University is transforming the Melbourne Burwood Campus to a modern and innovative learning environment, through the construction of the new Deakin Law School Building (LC).
Housed in the brand new multi-million dollar architecturally designed, leading edge sustainable building are two levels of student support and health services. Clublinks, in partnership with Deakin University is proud to be opening the doors to the new DeakinACTIVE facility in the coming months. This new and exciting wellness space will be available to Deakin students, staff and broader members of the public.
The LC building offers smooth architectural lines and a dynamic modern learning space with the DeakinACTIVE gym located on the ground level overlooking the Wellness Garden. The facility is located at the Elgar Road campus, with dedicated undercover parking and greater access from key University facilities.
With 850 sqm floorspace and a dedicated large group fitness area fitted with a glass skywall, the space is New York warehouse style with concrete columns, high ceilings and exposed ductwork on view.
Sporting world famous Technogym equipment, the facility will offer the most complete range of cardio, strength and functional training equipment in the market.
Clublinks and DeakinACTIVE are proud to launch Victoria's first Technogym SkillAthletic training platform with its own dedicated floor space housed inside the gym. SkillAthletic is all about improving performance. Think High Intensity Interval Training (HIIT) workouts built specifically to use our amazing Technogym equipment.
Andrew Crowley, Manager Sport and Recreation at Deakin University is thrilled to be able to bring such incredible advancements to wellbeing at Burwood. "I am so lucky to be surrounded by great colleagues and people that help with achieving the vision of increasing physical activity. This new space will transform how we engage with students and bring strong advancements in technology and mindfulness".
In addition to all this, guests and members can enjoy the best experience by using the DeakinMOVES app to connect with all the equipment in the gym. The Technogym equipment automatically syncs with personalised training programs and the workout results are automatically tracked into the DeakinMOVES account. With more exciting developments in this space, the DeakinMOVES app is set to transform online workouts and drive positive health and wellness outcomes across the University and local community.